In this article, we detail how to use social media as a free platform to help you get recruited to play college baseball. From setting up a successful profile page to sharing your latest recruiting video with countless college coaches, this article will help show you how thousands of players are successfully using social media as a free and effective tool to create recruiting interest and keep coaches up-to-date with your baseball activity and development.
Players and parents are constantly bombarded with ads and invites for expensive "must attend" showcase events or recruiting services that guarantee college opportunities in exchange for a small fortune. College baseball hopefuls are made to believe that if you want to keep playing baseball in college, the road to get there has to be expensive. This simply isn't true. There are cost effective or free alternatives to everything in the recruiting process that costs money. When used correctly and strategically, social media (particularly Twitter, which is a preferred social network for college coaches) represents the best of the free recruiting strategies.
Social Media's Growing Influence on Recruiting
In our article on how to use technology to get recruited, we detail social media's exploding influence in the recruiting process, including the ways that the COVID-19 pandemic has made it an even more important tool for serious recruits.  College coaches are no longer using social media simply as a means for gauging the character, judgment, and decision-making of recruits, they are also using it as a primary means for marketing their program, evaluating video, finding recruits, building recruiting lists, and communicating with players. It's not uncommon for social media to be the place where players garner initial interest from a program or even get scholarship and roster spot offers directly from the recruiting videos they post on Twitter and other platforms. The importance of social media as a recruiting tool will only continue to grow. Here's how to use it as a way to generate interest, learn, and communicate.
Elements of a Successful Profile
An interested college coach should be able to find most of the essential recruiting information they need right on your profile. Think of your profile as a short resume. It should tell coaches who you are, where you play, when you'll graduate, any standout metrics or measurables, and where they can look for additional information. Use the checklist and example below as your guide!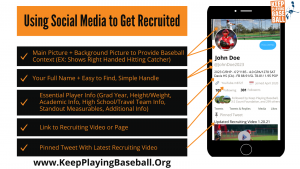 Use Your Posts to Keep Coaches Updated With Progress and Important Information
Let your social media profile be a living, breathing documentation of your progress as a player. You don't need to post every swing or even everyday, but periodic updates and useful information can be incredibly helpful for getting recruited. Use your feed to share bigger milestones like updated recruiting videos (tagging appropriate accounts like Flatground– more on this later in the article!), and also to highlight more routine stuff like short game and workout clips. You can also use your profile to communicate important information that recruiters may be looking for, things like when you'll be pitching, when and where your games are, your full schedule, and other useful information. Remember, who you follow, what you share, when you share it, and the way you share it will tell coaches a lot about who you are.
Build a Network of the Right People
Load your follows and feed up with coaches you want to play for and programs of interest. Follow baseball resources that can help you learn and grow as a player or that provide you with a positive perspective or inspiration. This doesn't just have to be baseball. Plenty of inspiring and helpful people are on social media providing expert advice and tips on anything you can imagine. Make your social media reflect where you want to go and what you want to learn. This also means that you should be careful not to follow any negative influences or people who would make a coach think twice about recruiting you. We talk a lot about the damage poor social media use can cause here and here.
Tag Accounts (Like Flatground!) That Can Amplify Your Reach
One of the reasons why social media is so great for recruiting is that when you use it correctly, it can help extend your reach farther than you can even imagine. To highlight this point, let's look at one place where the social media spotlight is already helping high school recruits get interest and even offers from coaches.
The short version is to post your recruiting video on Twitter and tag @FlatgroundApp for pitchers or @FlatgroundBats for hitters (or both for 2-way players). Follow the rules in the tweet below, and the accounts will retweet your video to it's 50,000+ followers, many of whom are college coaches and scouts. With a little work, your video is now at the finger tips of coaches from all different levels and all over the country.
Here are some Do's & Don'ts for Tweeting to @FlatgroundApp to ensure your tweet will get retweeted and to make sure you'll have your best chance at success! pic.twitter.com/94x0BkfDPN

— FlatGround Pitching (@FlatgroundApp) August 1, 2019
Here's a bit more on how the Flatground accounts got started and how they can benefit you:
If you are active on Twitter, you've likely heard of the Pitching Ninja (@PitchingNinja on Twitter). The account is run by Rob Friedman, who has partnered with the MLB and posts the most amazing GIFs of baseball highlights that the internet has to offer. Friedman's Pitching Ninja handle is approaching 350,000 followers, many of whom are Big Leaguers themselves taking time to marvel at the work of their peers. While much of Pitching Ninja's work has been focused on highlighting the best of the best from Major League Baseball, it is a project now a few years old that has us pounding away at the keyboard in excitement. Over two years ago, Friedman started 2 new accounts, @FlatgroundApp for pitchers and @FlatgroundBats for hitters. The account descriptions read, "Harnessing the power of social media to break down barriers & prevent pitchers from falling thru the cracks. Improve skills & showcase talent." The handle epitomizes the way players can get exposure, coaching tips, and more for free through social media. There are countless testimonials from college bound players who have used video and the Flatground network to get recruited and get scholarship offers.
Flatground represents the best of what social media can do for you as a recruit. It's free and offers a glimpse into recruiting in the digital age, where you are one tweet away from making it to the next level. The Flatground accounts are so in line with our work at KPB, we have a lesson in our free online course, Creating a Successful DIY Recruiting Video, devoted entirely to teaching you how to use Flatground and social media effectively. You can sign up for the course, which details the process of creating a successful DIY recruiting video and using social media to share it and amplify your exposure to college coaches, for free right by clicking HERE.
As we have in the past, we offer a huge tip of the cap to Pitching Ninja, Rob Friedman, whose Flatground platform is already succeeding in leveling the recruiting playing field, lowering the cost of exposure on families, and providing kids with a legitimate and affordable opportunity to get coached and seen. If you are serious about getting to the next level, check out these accounts and use them to get free exposure and opportunities!
Who Else to Tag and When
We recommend testing the waters (interest from coaches) by tagging accounts like Flatground that will push your video out to everyone. Once you have a better idea of the types of programs that are interested in you (from the response to those posts), you can experiment with DM's and tagging programs/coaches directly. Be aware that that can be a slippery slope. While it's true that programs won't be interested in you if they don't know who you are or see your video, you want to target schools that are appropriate for your skill set and don't want to seem like you are harassing coaches (they get interest from tons of players every day!).  If you reach out to programs where your skill set doesn't fit, mass tag a bunch of programs in poor taste, or tag a program/coach too often, it can result in you getting crossed off their list or blocked. Don't be afraid to take your shot, but understand that coaches will make it clear when they are interested, and you want to take your shot when it's most likely to be successful because you may only get 1 chance to be evaluated!
Putting it All Together
We often talk about the importance of having a diverse recruiting plan and multiple ways to connect with coaches. Social media can and should be a big part of that strategy! When you feel your skill set is ready, you should be proactively targeting programs of interest with direct emails (and video). Meanwhile, social media provides a great way to passively advertise your skill set to the thousands of coaches and programs that are active on Twitter and other platforms, or directly reach out/communicate through DM's and replies. When you follow the tips above and keep working to get better, don't be surprised if you are the next player to get recruited from social media. Good luck!
Note: This article was originally written when Rob Friedman first started @FlatgroundApp and @Flatgroundbats on Twitter. These accounts use the power of social media and a huge network of college coaches as a tool to help players get free exposure and advice from the baseball community. Since it was published, the impact of these platforms has continued to grow and continues to provide cost-free opportunity for those who are willing to put in the work and dream big!