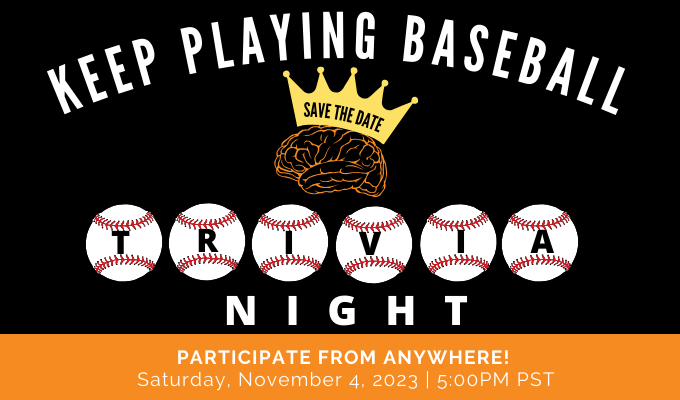 KPB TRIVIA NIGHT IS BACK!
We are excited to announce the 4th Annual KPB Trivia Night, which will take place on Saturday, November 4 at 5 PM PST. Join us as we get together remotely and answer questions for a great cause! Below you will find additional information on the fun night we have planned. CLICK HERE to sign up as an individual participant or to sign up an entire team!
Event Information
Who: Everyone is welcome to participate!
What: A virtual trivia night fundraiser for Keep Playing Baseball. Teams of 1-6 participants. 4 rounds. 32 questions. 1 winner!
When: Saturday, November 4, 5-7 PM PST
Where: Participate from anywhere with an internet connection! Gather with your team in person or remotely using breakout rooms to discuss answers!
Why: To have fun and raise money for Keep Playing Baseball!
Cost: $50 per participant
**Note: There will be one round of baseball questions, but being an avid baseball fan or having baseball knowledge is not necessary to participate!
Event Logistics
KPB Trivia Night 2023 will again be run through Trivia Hub software which integrates with Zoom for an easy user experience. This means that you can participate from anywhere with a reliable internet connection! Every team will have the option of getting together remotely in a breakout room through the Trivia Hub platform, allowing you to safely join forces with friends in different locations. All participants will automatically be entered into prize drawings (virtual door prizes!) and the top finishing team will take home the grand prize. We appreciate your continued support and can't wait to see you at trivia night!

If you have any difficulty registering or have other questions, please reach out to Ethan at ethan@keepplayingbaseball.org.
Become an Event Sponsor!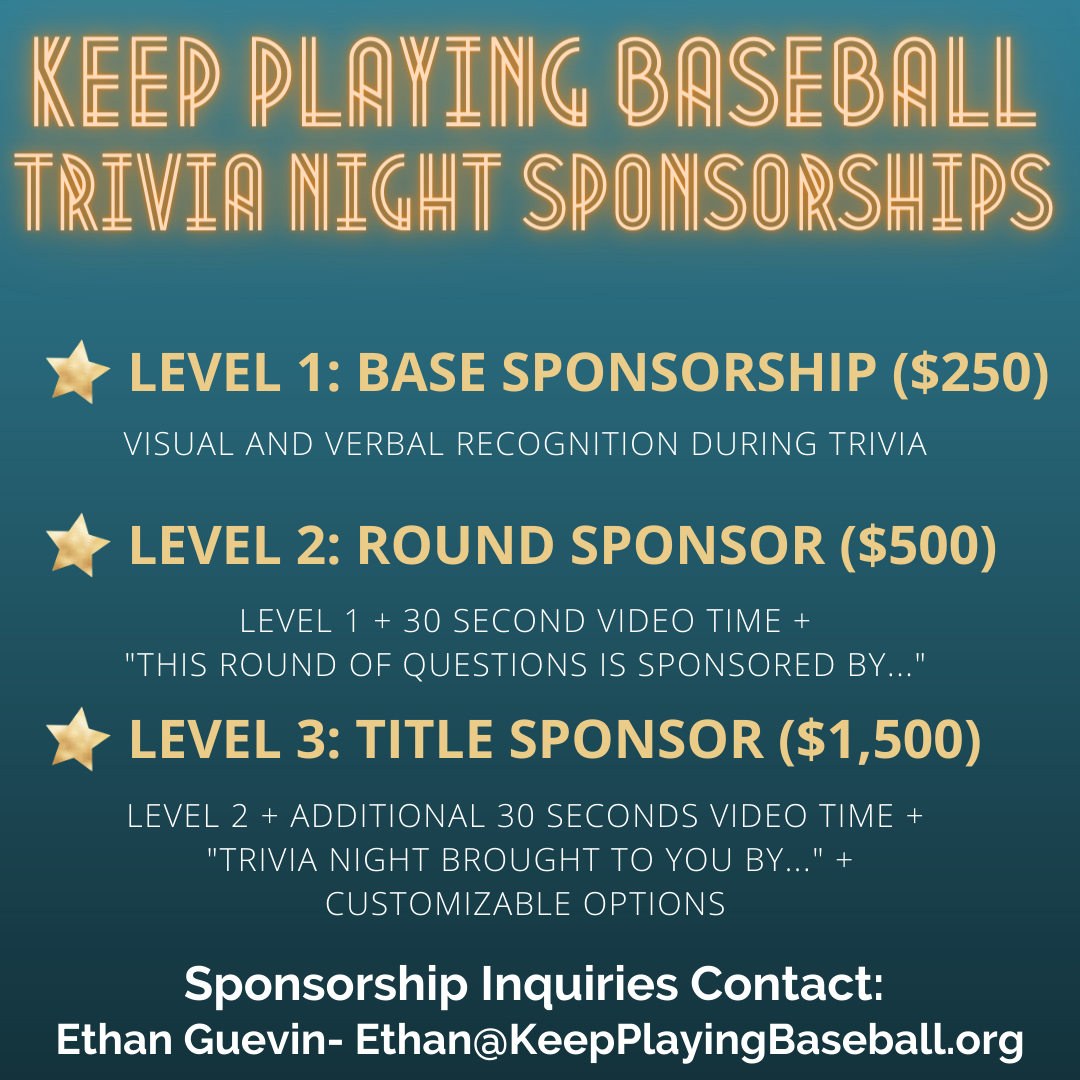 What does my participation support?
All proceeds from the event will support Keep Playing Baseball's work with youth baseball players. The fallout from the pandemic and shifting college baseball landscape continues to put many aspiring college baseball players and families in a very difficult position, and our free resources are needed now more than ever before. It's no surprise that during this time of need we've already had more players and families turn to our resources than ever before. Nearly 250,000 website users have accessed KPB's online resources since the start of 2022!
While our content and educational resources continue to show players and parents an affordable path to college baseball, we have also taken more proactive steps to help youth ballplayers keep playing the game they love. We've continued to strengthen our partnership with the Jr Giants program and Davis Little League's Registration Assistance Program, where we paid league fees for families who otherwise couldn't afford to have their kids play.
We are excited to continue this assistance and build on our educational programs into 2024 and beyond!