Every level of college baseball is more competitive than ever. With the transfer portal booming and rosters full of older, experienced college returners, players looking for 4-year opportunities out of high school are feeling the squeeze in a big way. Junior college ("JUCO") programs, long a hotbed for development, competition, and moving players to the next level, have become even more of a proving ground for players hoping to play at 4-year schools or beyond.
Just how impacted are college rosters? How is that affecting high school players looking for opportunities? To what extent are JUCO's becoming a more common path to a 4-year roster? In this article, we teamed up with our friends at College Baseball Insights ("CBI") to answer these questions and more. We add context and data to the trends that we see playing out in recruitment, and leave you with a plan for how to use roster research to find a program that aligns with your goals and can help you make it to the next level.
Building a Recruiting Class
Before we really dive in, an overview of general recruiting philosophies is helpful. 4-year programs generally recruit on need. Under normal circumstances, a roster with older players may take their chances with a heavier high school recruiting class, knowing these players will have time to develop and transition to college behind experienced guys. If a program needs impact players now, they typically reach into the transfer portal or JUCO ranks to get players with a track-record of success against college competition. This philosophy applies to positional needs as much as it does the overall composition of a recruiting class. Some programs are notorious for recruiting preferences that lean more heavily in favor of high school or JUCO recruits (which is something you can and should look up!), but the balance for most programs changes from year-to-year based on need—or at least it used to.
Recruiting with Impacted Rosters and Eligibility Waivers
COVID eligibility waivers, changes to the transfer rules, and a reduction in MLB draft rounds have created a massive surplus of college players—many of whom have been in college for 3+ years now but still have 2-4 years of eligibility left. With a huge surplus of college-tested players on campus and in a position to transfer (portal and JUCO), college coaches at 4-year programs no longer need to jeopardize their jobs and livelihood by taking the risk of recruiting large numbers of unproven high school players. This shift in strategy has created a difficult challenge for many high school players who under pre-COVID circumstances would be getting offers to play at 4-year programs. Generally speaking, for the last two plus years these high school prospects have lost those opportunities and roster spots to players already in college (transfers or just added eligibility years for players already on campus). This is a trend that is likely to continue in the coming years.
The Trickle Down Effect of Impacted Rosters and Recruiting Changes
With rosters full, high school players who typically compete for D1 rosters spots are being pushed towards other opportunities (lots of D2 or JUCO). This in turn pushes the lower end of the typical D2 recruits towards JUCO and other opportunities. Making matters worse, players who have made it to 4-year campuses the last few years who typically would be playing by now are on the bench behind guys with extended eligibility or being asked to transfer. Coaches are having to make difficult roster/recruiting decisions. This means more transferring and more players filtering down to levels where they typically don't end up, causing a roster crunch and less recruitment opportunities at all levels. The end result is our first message: college baseball, which was already competitive and strong at every level, is stronger and more competitive than ever. No level reflects this more than the JUCO route because of the ease of transferring, the ability to live at home and attend during the instability of the pandemic, among other reasons.
A Growing JUCO Pipeline: Numbers Behind the Trend
Always competitive and a great option for landing 4-year opportunities, just how much has the JUCO system changed in the last few years? Thanks to our friends College Baseball Insights, we can quantify some of the changes. The numbers behind the trend are staggering. In 2022, Wabash Valley has the most alumni playing at 4-year schools of any JUCO program. 53 former Wabash players are on rosters at 4-year college programs. 53! Almost 6 full starting lineups from just one program. An additional 19 JUCO programs currently have 35 alums or more playing at 4-year programs this season. In 2017, the total number of programs with 35+ alums playing at 4-year schools across all major JUCO levels was 3 and Cisco had the most players at 4-year programs with 40.
Extended eligibility is certainly a factor in the number of JUCO alums playing at 4-year schools. Players staying around longer, so there are more representing JUCO programs at the 4-year ranks. If anything, however, the pandemic has magnified what we already knew– the robust success of JUCO baseball as a proving ground for players and pipeline to 4-year program success is growing and that won't be changing anytime soon. It's also not just a few JUCOs in each state that are inflating the numbers. A rising tide of talent at the JUCO level has lifted the success of all programs. To better illustrate the growth of the JUCO pipeline, the following charts shows the number of JUCO programs at each level with 20+ players in 4-year programs dating back to 2017.
Number of JUCOs with 20+ Players at 4-Year Programs by Year
| | | | | | |
| --- | --- | --- | --- | --- | --- |
| | NJCAA D1 | NJCAA D2 | NJCAA D3 | CCCAA (California) | N-WAC (Washington) |
| 2017 | 51 | 16 | 3 | 10 | 0 |
| 2018 | 65 | 23 | 1 | 18 | 2 |
| 2019 | 85 | 28 | 5 | 13 | 4 |
| 2020 | 98 | 32 | 9 | 16 | 5 |
| 2021 | 103 | 42 | 12 | 19 | 6 |
| 2022 | 98 | 38 | 6 | 20 | 8 |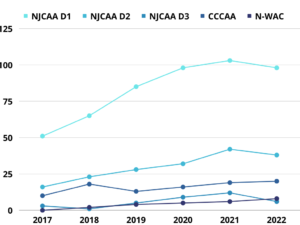 When you crunch the numbers, the growing trend of the JUCO pipeline is clear. JUCO baseball in general, and certain programs specifically, have carved out their reputation for getting players to the level they want to go. Thanks to CBI, you can easily see who these programs are and where they are sending their guys to play at the next level!
Key Takeaways and Action Items for Recruits
First, players who scoff at JUCO opportunities need to re-evaluate their beliefs. It's a legitimate path to 4-year programs and quickly becoming the best chance to stick at 4-year programs. Across the board, JUCOs are having success. 170 JUCO programs have 20+ alums playing at 4 year programs right now!
The second major takeaway is the incredible value of doing roster research to learn about programs and guide questions during the recruiting process. There simply is no substitute for quality research on a program you are considering. Whether your comb through web pages on your own like we discuss here or use CBI to save you valuable time and simplify the process, roster research is a must.
How many players at your position do they have? How often do those players transfer out? Do they come from your area? What does player overall attrition look like? Are they getting a lot of D1 bounce backs? Does the JUCO you are considering succeed at getting players to 4-year programs? How does it compare to other JUCO programs in your area? Are they going to the level and schools where you ultimately want to end up?
With resources like CBI, you can answer all these quickly, saving you time with research and time pursuing schools that likely won't recruit you or are not a fit. The information also gives insight into questions you should ask coaches directly during recruitment (EX: It looked like 5 freshmen from last year's team didn't return. What is the main reason players are leaving?). We'll address these types of questions at length in a future article.
Finally, no matter what level you plan to play in college, you need to be informed when you show up and have a plan. What are your goals? What type of program will provide the environment you are looking for? Answering these questions and developing a plan starts with learning as much as possible about the program you are considering. There's no need to wait! Thanks to resources like KPB and CBI, this process is cheap (it can be free if you do the work yourself) and easy. Get started today, we're here to help!
Note on Roster Data: Rosters are always changing and data constantly updated and reconciled. Even though the trends are clear, these exact numbers are subject to slight changes as more information is evaluated. Thank you to our friends at CBI for making this data available!