Dear KPB Community,
We launched Keep Playing Baseball in 2012 knowing 2 things: 1) we wanted to continue a legacy of helping high school baseball players make it to college baseball; and 2) we wanted to provide an accessible and free source of information on college baseball as a viable alternative to profit-seeking youth baseball programs that are pricing qualified kids from marginalized backgrounds out of the college game. We had our "why"– a passion for helping others reap the benefits of college baseball and desire to make the path to college more accessible for everyone– but our future direction was unclear. For four years, the KPB Team worked to build up website content and resources on weekends and in free time from our full-time jobs. Then, half way through 2016, we were granted our 501(c)(3) nonprofit status from the IRS, opening new doors and opportunities. In 2017 we added our first full-time employee, grew our community online and at home, and took on major projects. It was a transformative year, "Our best year yet", we said in last year's version of this same letter.
We run the risk of sounding like a broken record, but like 2017 before it, 2018 was Keep Playing Baseball's best year yet and it wasn't even close. Thanks to your support and help, we've turned our "why" into a legitimate platform for players and parents to access all the resources and information they need to make educated decisions in the college search process and make playing in college a reality. Our resources are free, accurate, available around the clock, and working as intended. We pride ourselves on being responsive to questions and guiding players and parents to the resources that can help them. It's not a magic pill. Success in the recruiting process requires a lot of discipline and hard work. But our free resources on the recruiting process stand up to anyone's, paid or not, and we couldn't be more excited to continue improving them. In the grand scheme, we remain a small operation, but we are just scratching the surface of what we are capable of doing. Our year-to-year website user totals help to tell the story of our growing impact and improvement.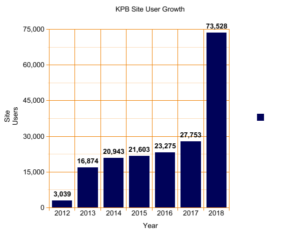 Our success in 2018 went beyond our growing reach. In 2018 we:
Completely upgraded our website interface and capabilities to meet the growing demand from an increasingly mobile audience
Merged out 2 websites into 1 for better integration between our various resources
Created a partnership with the Junior Giants, an organization that serves 24,000 youth baseball players on the west coast
Met in person with more high school players and parents than ever before
Launched our podcast and released 25 episodes
In 2019, our commitment to fulfill a vision where all high school baseball players, regardless of background, have access to the information and resources to play in college, succeed as a collegiate student-athlete, and graduate from college will remain as strong as ever. Likewise, our continued efforts to improve online resources and reach more players and parents in need is a given. 
We hope 2019 will be defined by more community involvement and interactions with players, parents, coaches, and like-minded organizations and we head into the new year with a few exciting projects on the horizon.
Expanded partnership with the Junior Giants 
We are excited to continue our work with the Junior Giants in 2019. A few of the planned ways we are expanding our partnership include, working with the 40 Junior Giants' Harmon and Sue Burns College Scholarship recipients, collaborating on social media content, working more closely in-person with some of the Junior Giants Senior Leagues for 14-18 year-olds, and tabling at games to provide free information to future recruits and their families.
Free Player and Family Recruiting Workshops
In 2019, we will be our expanding our efforts and capacity to connect with and educate more players, families, and coaches face-to-face through free recruiting workshops. When we asked players and parents at past workshops how many of them feel like they understand what they need to do to navigate the college baseball recruiting process, we have been met with blank or embarrassed stares. Having the opportunity to ask specific questions and talk with someone directly about the process can make a huge difference to families. While our online resources are still the backbone of our work, we have found they are even easier to use after an in-person (or online) orientation.
Through the workshops, we want to educate parents and players about the recruiting process and also teach them where they can turn for help when they encounter problems along the way. While the audience at the in-person workshops will be comparatively small, the goal of these workshops is the same as our online outreach — to empower players and parents to take control of the recruiting process on their own and make informed decisions about their college search.
New Partnerships with Like-Minded Organizations
Coming off an exciting ABCA Convention in Dallas, Texas, we are full of excitement over the coming baseball season and potential opportunity to partner with organizations who have similar values and missions to ours. There are many involved in the game who want to make baseball more inclusive and diverse. In 2019, we look forward to finding those organizations and working with them to improve the game for everyone.
As we embrace our current projects, partnerships, and the unknown, we look to the words of the late, great Hall of Famer and humanitarian, Roberto Clemente for guidance and inspiration in what has become a New Year's tradition. "Any time you have an opportunity to make a difference in this world and you don't, then you are wasting your time on Earth."
We look forward to working with you in 2019 to make a difference!
Ethan Guevin and the KPB Team